I've noticed a few members in the FaceBook groups and forum asking about aftermarket CVT transmissions coolers. At the end of the day, it is up to you if you want to add an additional cooler. Just don't go to your dealer with it when you need warranty work. They will say your transmissions had been modded/tampered with and they have 100% right to deny your warranty on the transmission.
The CVT has its own unique cooling system to satisfy the needs of "Daily & Normal Driving". This is why Nissan is confident in offering an extended warranty on it. Now if you are planning on taking your car to the track… a cooler will definitely help to help combat the excessive heats from those runs. But how many owners...are planning on taking their 07-08's to the track?
I'm not saying you can't or shouldn't do it. I'm pretty sure you can install a generic aftermarket cooler. And, If you do decide to it… you can just look at it as extra protection. But overall, this is something would consider doing AFTER warranty…given its approx. 4k price tag to replace. Not including labor.
CVT Diagram

Interesting Information About Cooling System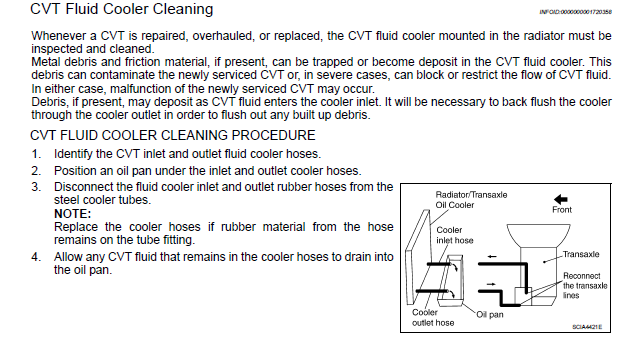 __________________
04' Nissan Maxima - [Supercharged w/ HR Swapped Motor & Fully Built Auto Trans]
98' Nissan Maxima - [VQ35DE 6-Speed Supercharged]
6thgen 2014 Build Thread