Courtesy of RobK0000 from nasioc.com
----------------------------
I got these about a month ago, scratches all over, nicks and it didnt look nice. So, instead of painting them, i decided i am going to use my powdercoating skills. Ive been powdercoating now for about 2 years, everthing around the hosue, flag post holders, tools, calipers and eveything else thats metal. Its an ADDICTION.
I started on this project last night near midnight when a bunch of my friends and fellow enthusiats decided they would be sick if they were coated instead of hondas gold paint. So i went ahead and accepted the challenge. It took about 4 hours to disassemble the calipers, all 4 and seperate all the parts into seperate baggies, just so i put the parts back the right way. After taking them apart, i deceided im going to coat them Red, just like i did on my Stock calipers. They came out excellent and im thinking these will too.
Stock calipers coated:
This morning i went over to Autozone and got a bottle of Aircraft grade Paint thiner. Worked alright on the brembos, took about 45 minutes to get most of the paint off. After the paint remover i took a dremel on 300 RPM speed and put a paint removal attachment on it. THis worked Far better than the thinner and much more efficeint. I stayed on this for almost 20 minutes. then started on the other half of the caliper. The brembos are two-piece calipers this is a good thing otherwise they wouldnt fit into my oven. Which by the way is a kitchenaide countertop bread toaster. It works great for $15. For a powdercoating gun i used my Craftsman 3-2-1 Coating gun. Its a rather simple yet effective coated and im really satisfied with the results.
My Oven:
The Goods: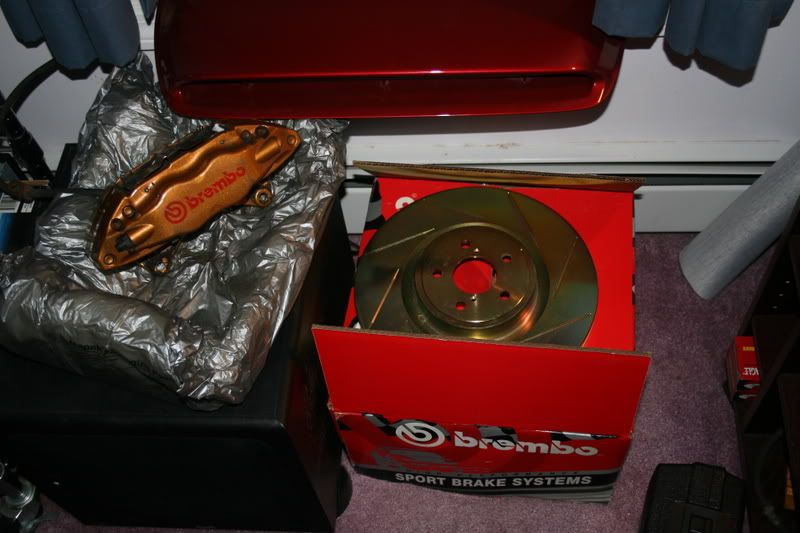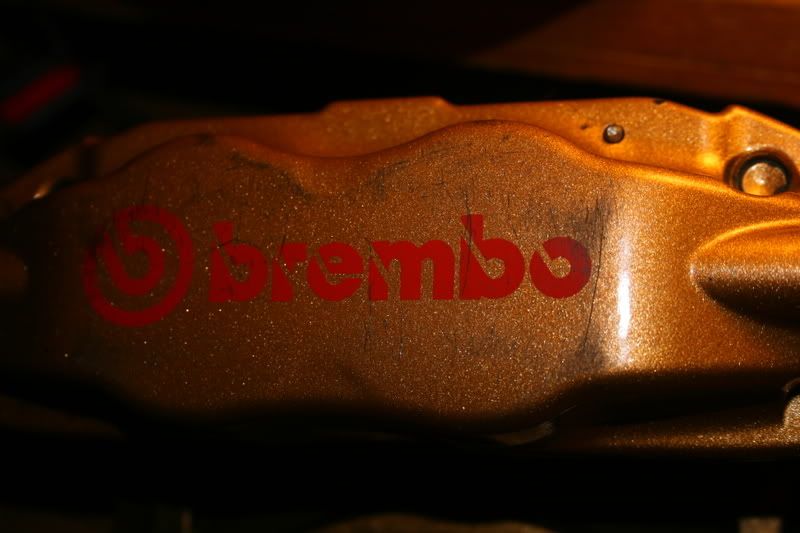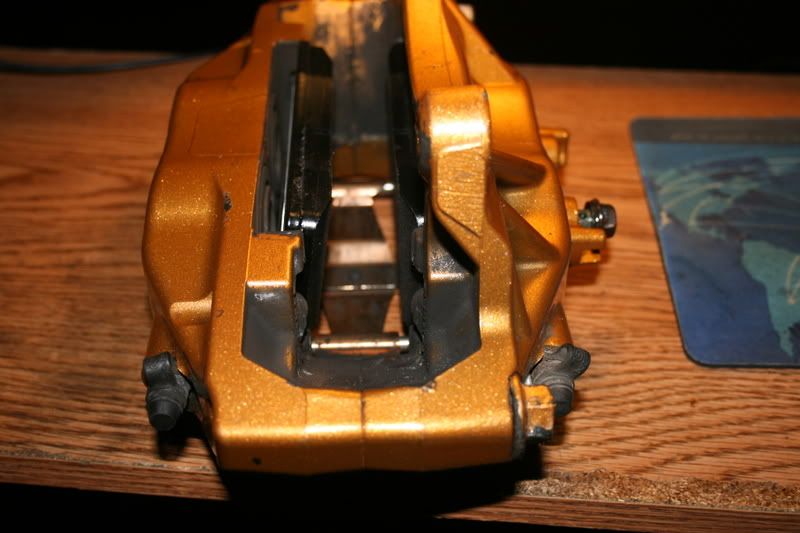 Disassembly:
Now that i showed you my tools i guess its time to start coating. First off, i started by taking a choke and carb cleaner spray and cleaning out the caliper jsut to remove any and all debris and grease. Then i plugged in my Coater, grounded the caliper and sprayed away! I forgot to take pics of this step so, my mistake. But Here is the first piece of the caliper after baking. Its now drying and its stilla bout 185 degrees. To hot to handle.
Coating progress: